One must not venture too far from the city for fresh air and natural scenery. By car, Bangalore to Nandi Hills is a pleasant and picturesque 60-km journey as one leaves behind the ever-expanding city and enters the more laid-back and verdant countryside. One can spend time at one of Bangalore's famous vineyards at the foot of Nandi Hills. Discover some of the region's best wines and learn about India's budding viticulture industry.
History Everywhere
Nandi Hills is home to some very fascinating historical sites. Tipu Sultan had his summer palace here, and it stands today, albeit most quarters are inaccessible to the public. There is a mystical vibe about the temples in Nandi Hills – finely crafted examples of Dravidian architecture set amidst thick shrubs and forests. The Gavi Veerbhadra Swamy temple is at the highest point and gives visitors panoramic views of the surrounding valleys and plains.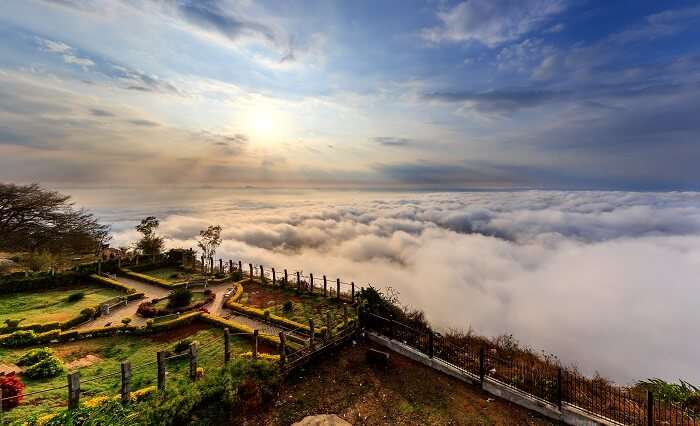 Activities in Nandi Hills
The terrain in Nandi Hills makes it suitable for some exhilarating adventure sports. Rappelling and rock climbing facilities are available in Nandi Hills. Paragliding is another thrilling activity that one can enjoy in Nandi Hills. Cycling is another activity that is gaining traction in Nandi Hills. There are certain routes where one can enjoy a scenic session of pedaling. Many like to carry a GoPro camera to record their way and share it with enthusiasts when it is done. A geared cycle would be recommended for Nandi Hills because of the terrain. The trek to Nandi Hills's summit can be challenging, depending on the chosen starting point. It is an enriching experience with bird sightings and mesmerizing views. Trekkers can also expect to come across old ramparts and forgotten historical sites.
Natural Treasures of Nandi Hills
Nandi Hills is still very wild, giving refuge to some endemic species, some rare or endangered. Bird watching in Nandi Hills is a joyous affair. An early morning start is recommended as the hills' air is filled with the local feathered denizens' chirps and tweets. Keep the binoculars and the cameras ready. Some species that can be sighted here include vultures, eagles, and kites. The peregrine falcon, as does the Malabar Whistling Thrush, also calls these hills home.
Travel in Comfort
The best way to enjoy this drive is with a self-drive rental. One can travel in complete privacy and control the journey's pace, making stops and detours at will. Zoomcar is a great choice for a Bangalore to Nandi Hills car rental – the app-based platform allows registered users to book a vehicle in seconds. A wide range of cars and 24/7 on-road support makes car rentals the best option to travel uncompromisingly.