Just like other areas of your home, bathrooms also deserve a revitalizing touch. It is a place where you start a fresh morning every day and wash off your worries and woes every single night. But, if you are using this place multiple times a day, it is wise to add a tinge of creativity to space. Arrange all little things that can provide you with that sense of tranquillity and enhance the bathing experience.
The best part is that you don't need to shed thousands of bucks for transforming it. You can easily achieve a million-dollar look just by updating the fixtures, painting the floors, installing smart storage solutions, and some sort of mirror treatments.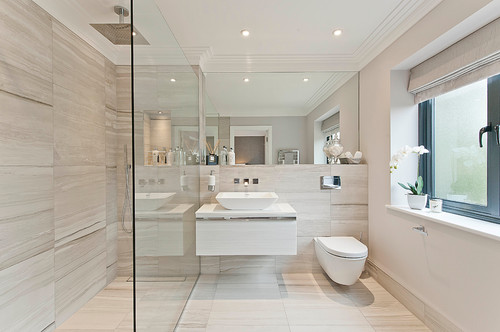 You can oomph up the character and style of your bathroom by adding these simple elements –
1. Upgrade the Shower –
If the pressure of your shower is not apt and you are not enjoying the bath, then it's time to install the new shower panel. Ideal is to invest in a high-pressure power shower to have a flying start of the day.
2. Accessorize –
Learning to accessorize the bathroom is the best way to change the dull look of the bathroom. Try changing the toilet roll holder, install hand dryers, soap dispensers. It may sound crazy. But these little changes can help you a lot in revamping the look of the bathroom.
3. Maximize the Storage –
Make sure that the bathroom has enough storage space to store all the bathroom essentials in one place. It is mandatory so that you don't have to run naked from room to room in search of a towel.
4. Improve the Lighting –
The lighting in the bathroom can affect your mood to a great extent. Try getting the lights installed that soothe your mind and make your bathing experience better.
5. Add unique flooring –
Add the cheap peel and stick tiles on the floor. It will not cost much and will make your floor look new and attractive. The best thing about them is that it can easily be removed with heat using a hairdryer.
6. Add plants –
Plants can brighten up your boring bath space. A variety of plants are available in the market that can lift wilted spirits and freshen the stale air.
7. Get new vanity –
They are inexpensive, and experts say that they can enhance the look the bathroom. White-colored vanity goes with everything and can increase the storage space of the bathroom.
8. Create a gallery wall –
It's time to transform a boring wall into an artwork. Get your favorite quotes or sceneries framed and install them on a free wall. It will make your bathroom look cool and attractive for sure.
So what are you waiting for? Remodel your bathroom now by using the above given pocket-friendly methods.